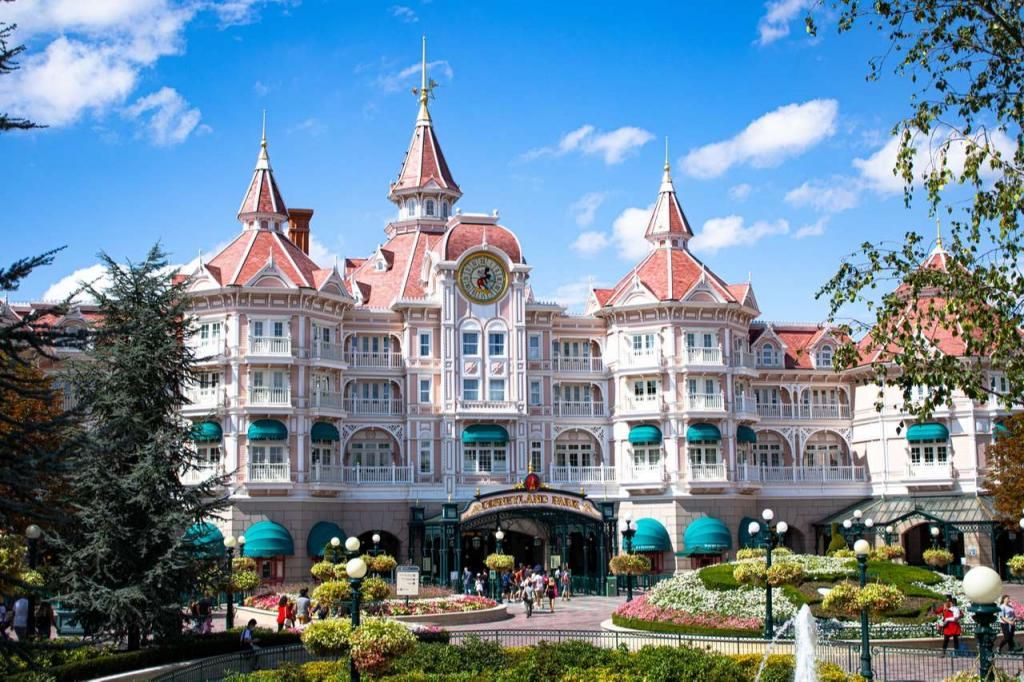 Find a hotel in Paris to visit Disneyland Park
Categories : Discover Paris, published on : 1/9/22
Find a hotel in Paris to visit Disneyland Park
Nothing is easier than finding a hotel in Paris. But if you have planned to visit Disneyland, it is better to find one with an ideal location to be able to fully enjoy the amusement park and the city of Paris at the same time! To make the right choice, follow the guide.

Disneyland Paris during the Christmas holidays.
Winter magic comes to life at Disneyland Paris to spend sparkling Christmas holidays.
All the Disney characters welcome you in their festive costumes amidst hundreds of glittering decorations and offer you their dazzling new parade for you to experience an unforgettable Christmas. What to be dazzled by a show more magical than ever led by Mickey and all his friends. In these difficult times, remember that wearing a mask is mandatory in the park.
The Christmas tree dressed in a thousand lights awaits you on Town Square. Then Main Street and its sumptuous decorations take you to the gates of Sleeping Beauty's castle. Here you are in the heart of a real Christmas tale!
Dressed in their best outfit, Santa Claus, Mickey and all their friends are waiting for you to pose with you for a selfie that will leave you with lasting memories. Then enjoy a nocturnal spectacle that the whole world would like to experience and let the holiday season carry you away with the enchantment of fireworks, lights and music.
Browse the castle shop and Merlin the Wizard's shop and you're sure to find some wonderful Christmas gifts for anyone you love. Then extend these moments of family fun to Disney Village where you will find small wooden chalets offering divine holiday specialities. A free shuttle service is available to spice up your stay in the shops of the Vallée Village.

Getting to Disney from our hotel in Paris.
Our hotel is ideally located in Paris to easily and quickly enjoy all the most beautiful monuments of the capital, but also to get to Disneyland with a magic wand.
Located at the La Motte Picquet Grenelle exit and at the corner of rue du Commerce, the Bleu de Grenelle hotel is 49 km from Disneyland Paris. Take line 8 of the metro, then in a single change of train, you take line A of the RER to arrive directly at the amusement park of Marne-la-Vallée in about an hour.
Another option is to choose metro line 6 from the same station, then also change to RER line A for a journey that takes almost the same time. Arrived at the RER station, you get off the train and you only have a 2-minute walk to enter the Disney park directly. It is the most economical means of public transport, it will only cost you 7€60 one way. In good traffic conditions, your travel time will be approximately the same by car for approximately 50 kilometers away.
By taxi, the price is around 60€ to 80€, everything depends in this case also on the traffic conditions. In VTC, the prices are essentially the same, and, here too, depending on the traffic conditions, the price can be higher or lower. The difference being that in VTC, the price of the race is announced from our Paris Disney hotel and remains fixed.
Another solution to access Disneyland Paris, your personal car or a rental car. Please note that private parking is not free. The cost of transport in this case being related to the vehicle, the road time remaining almost the same.
In the latter case, if you program your browser, the access information is: boulevard du Parc, 77700 Serris/Coupvray. Latitude: 48.876077 – Longitude: 2.79646 (parking coordinates).

Our hotel for visiting Disneyland Paris.
To have a pleasant and comfortable stay in Paris, it is important to choose a hotel with an ideal location. Opposite the Motte Picquet Grenelle aerial metro station, you have direct access to lines 6, 8 and 10 which allow you great ease of travel to the main points of tourist and professional interest in the city of light, as well as a quick and easy access to the Disney Park.
In just 15 minutes by metro, you can enjoy the "most beautiful avenue in the world" the Champs-Elysées, the Paris Opera – Palais Garnier or the Louvre Museum. In less than 20 minutes on foot, you arrive at the Eiffel Tower, and can climb the 300 meters high Iron Lady to admire a breathtaking panorama of the capital.
You can also continue to enjoy the view of the Eiffel Tower from one of our 57 comfortable and recently completely renovated 4-star hotel rooms. Standard, superior, executive Eiffel Tower or apartments, our hotel offers you a wide selection of high quality rooms. Bedding carefully selected to ensure optimum comfort during your family stay in the heart of Paris, air conditioning and 5-star sound insulation, everything has been designed to meet your well-being and your needs.
Establishment with a contemporary style, whether you are traveling with family, alone or in a group for pleasure or business, our hotel offers you a calm and pleasant setting as well as spaces adapted to all your needs such as a co-working space, a small space -lunch or even a meeting room.
Comfortable, welcoming, but also warm and enjoying a privileged geographical location, our hotel located in Paris allows you to reach the Disney park as well as all the most beautiful sites and monuments of the capital quickly and very easily. Ideal for spending intense and unforgettable moments as a couple or with the family.